The Stateline's Best Puerto Rican Food
Flavor. Passion. Authenticity.
Fresh and bursting with flavor is what Wepa Cuisine has to offer. Serving the Rockford, IL area we provide great tasting food that's prepared fresh with the highest quality of ingredients. Treat yourself to a nutritious meal from our delicious menu.
Fresh Flavors
We pride ourselves on using fresh, high quality Puerto Rican spices and ingredients in our food to give you the full island experience.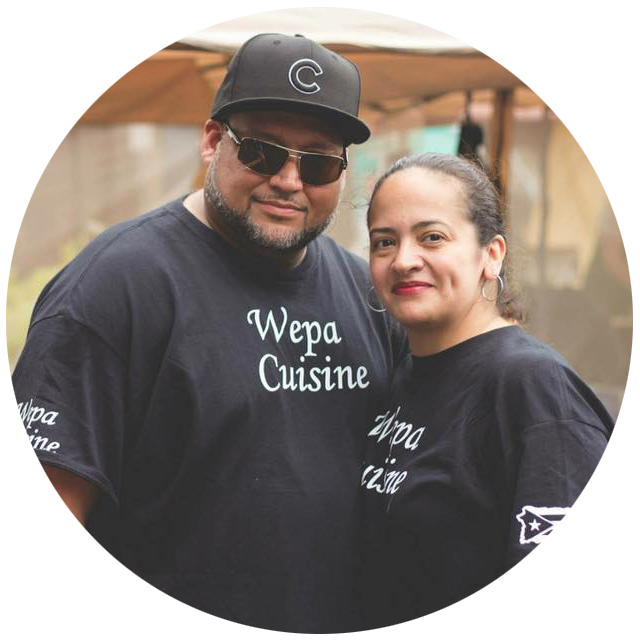 The Full Experience
Wepa Cuisine is known to many as the number one place in the state line for authentic Puerto Rican food. The married dynamic dual Angel and Mirian Molina are the business owners and intend to take their island roots across the state line with a smile that is hard to find.
The food is amazing...Puerto Rican food is totally different from mexican food. So much flavor and so many different types of delicious dishes...Yup, I love me some Puerto Rican food!!!
These people are amazing! Try them out, you will be addicted.
Had the chicken kabobs today at Beloit farmers market... Already making plans to go back next Saturday! BEST chicken. So tender and flavorful!
Amazing food and great cooks! Love the kabobs at the city market!!
Like I said before; Ate, died, went to heaven and had to come back for more. That's how good their cooking is. ¡SABROSO!
Wepa catered our wedding and everybody loved the food (even if they didn't know the names of the dishes)! We were originally going to choose BBQ because everybody loves BBQ and is fairly cost effective, but Wepa's Puerto Rican food and presentation were different, tasty and still cost effective enough for us to change our minds!